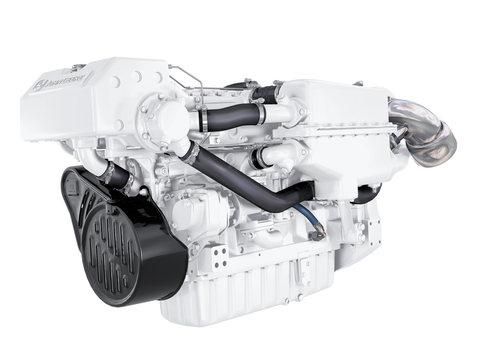 > Water cooled exhaust manifold
> Common Rail Fuel system
> High torque
> Low RPM








6090SFM75 is a modern common rail engine optimized for low emissions and low fuel consumption. The engine has a water cooled turbocharger and exhaust manifold, the charge air cooler is seawater cooled and this results in low surface temperatures for reliable operation. High torque provides good response when maneuvering. 24 volt electrical system with Nogva Motor Computer monitoring system.
SFM-range is turbocharged and aftercooled, air-to-seawater. Delivered with heat exchanger.
| | | | | | | |
| --- | --- | --- | --- | --- | --- | --- |
| Model | Effect | Engine rpm | Rating | Emission | Leaflet | Drawing |
| 6090SFM75 | 325 hp | 2100 rpm | | Tier 2 | | |
| 6090SFM75 | 375 hp | 2200 rpm | | Tier 2 | | |
| 6090SFM75 | 425 hp | 2300 rpm | | Tier 2 | | |
| 6090SFM75 | 500 hp | 2400 rpm | | Tier 2 | | |
| 6090SFM75 | 550 hp | 2500 rpm | | Tier 2 | | |
Technical details
| | |
| --- | --- |
| Displacement | 9 liter |
| Number of cylinders | 6 in-line |
| Bore and stroke | 118,4 x 136 mm |
| Compression ratio | 16:1 |
| Fuel injection | High pressure common rail |
| Aspiration | Turbocharged and aftercooled |
| Cooling system | Heat exchanger |
| Weight (dry) | 1066 kg |