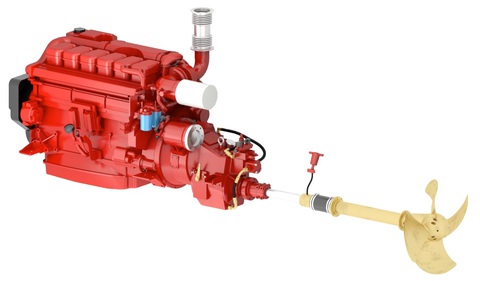 Scania

Propulsion
Effect:220-1150 hp
Applications: The engines are supplied with power for the continuous operation of fishing boats, ferries and work boats with a high number of operating hours per year. They are also suitable as main engines in planing vessels, since they can deliver relatively high power to weight ratios. The engines are also available for diesel electric propulsion.
Scania diesel marine engines are designed for strength and longevity. Modern technology and electronics, such as Scania's EMS control system, monitors the operation and ensures proper fuel supply, low fuel consumption and cleanest possible exhaust. The motors are approved by most classification societies and meet current and future environmental requirements.
Scania has always focused on ease of maintenance and a good rate for repairs. Scania engines take care of this by including a cylinder block with replaceable water-cooled cylinder liners and individual cylinder heads with four valves per cylinder. This contributes to a high level of operational economy.