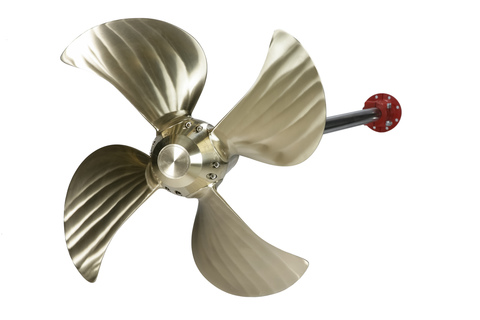 Nogva propellers

> Pitch propeller
> Propellers with shaft-line servo
> Fixed adjustable propellers
> Fixed propellers

Pitch propeller
Nogva produces pitch propellers for power outputs up to approximately 600 - 700HP. In cooperation with other manufacturers, we can supply pitch propellers and complete propulsion systems for all motor applications up 2700HP.
Type

Shaft diameter
(mm)

No. of Blades

Propeller diameter
(mm)

Drawing

1100-50

50

3

600-750

1131-60

60

3

750-950

1131-65

65

3

750-1050

N4-215-65

65

4

800-1000

N4-215-70

70

4

800-1000




ES25

85

3

950-1350

N4-260-85

85

4

900-1200

N4-310-100 

100 

4 

1000-1400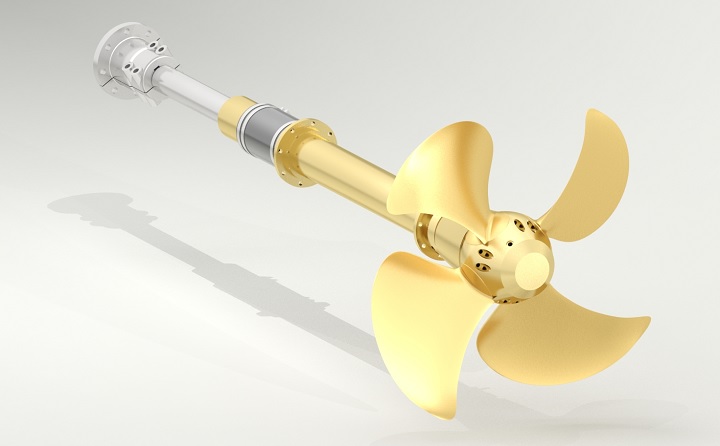 Why controllable pitch propeller?
Controllable pitch propellers are used to optimize progress. By controlling the propeller twist (pitch), you can constantly take out 100% of engine power on the correct engine speed. This prevents overloading the motor when the vessel is heavily loaded.
By maneuver operations at low speed, you have full control of the vessel and the desired engine power is always freely available at that engine speed. Propeller twisting determines whether the vessel moves forward, aft or stationary.
Nogva, along with other Norwegian propeller manufacturers, has participated in many years of development by Marintek. Together we have developed effective programs for propeller design and analysis. These programs complement the vast experience and empirical data when developing and designing propeller systems and blades. The result is efficient propellers that are highly valued by users.
In recent years, Nogva has gained expertise in propulsion systems for work boats used in aquaculture. Typically, these boats have a trade area around 15-20 knots and need robust, efficient and reliable propulsion. The hulls are usually made ​​of aluminum, which can be prone to noise and vibration problems. Our solutions counteract these problems by minimizing the propeller's impulses toward the hull.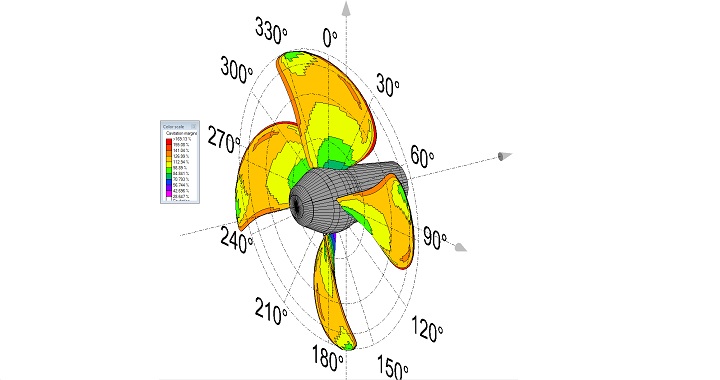 Nogva controllable pitch propellers are designed for connection to gearboxes with built-in servo (as per all Nogva gearboxes). The pitch is controlled by the shaft-line servo. 
Other propeller products

Fixed adjustable propellers
Nogva propellers are also available in a fixed adjustable version, which allows precise adjustment of the propeller pitch to a given load condition. Adjustments are made from the outside while the vessel is on the slip.
This solution is a good compromise. Although not as flexible as controllable pitch, they offer far more flexibility than a regular fixed propeller. We often see that a vessel's weight increases with time, and this can be compensated for by adjusting the propeller pitch. Fixed adjustable propellers require an ordinary gear with reversible direction of rotation.
Propellers with shaft-line servo can be used with any kind of gearbox. The servo is built around the propeller shaft. A hydraulic hand-pump actuates servo movement and pitch adjustment. Several such hand-pumps can be used to achieve more steering positions.

Fixed propellers are normally delivered for pleasure boats. Nogva manufactures the propeller shaft, sterntube and flexible stuffing box. Nogva is a recognized brand for this market.